More  control  when  running
End-to-end  rubber  outsole  with  U-Tread
Due to our super lightweight and flexible midsole construction, we were able to realize an end-to-end outsole made of a grippy rubber compound that delights with an absolutely smooth movement while running. Achieving added durability, the extremely stressed heel area is reinforced with a highly abrasion-resistant rubber part, the U-Tread.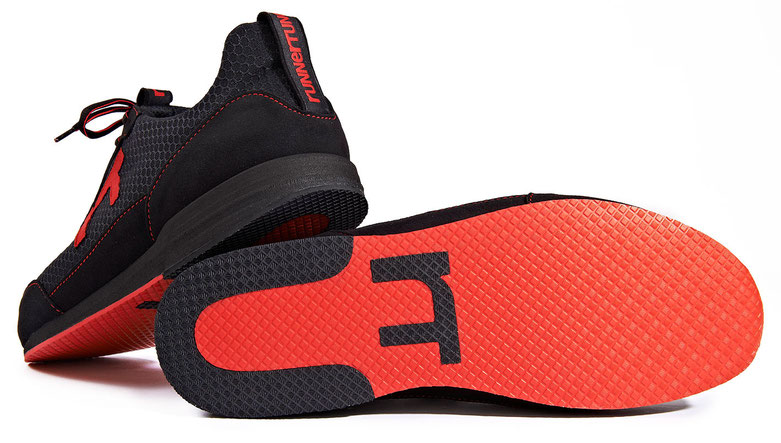 Know  what's  going  on  –  Ground  Control
Feedback to the runner
Running is a nature experience. However in the recent years it has increasingly degenerated into delusional technology. By wearing massive soles we are further separated from the ground. This is not our cup of tea! The combination of our thin outsole and the perfectly shock absorbing midsole enables you feeling the ground - in a comfortable way. Changing conditions are fed back. Knowing what happens underneath without the need to have a look automatically leads to surefootedness. This is what we call Ground Control.
Variety for your feet
Furthermore this offers a healthy diversion for our feet. By the need of adapting to a range of changing conditions a variety of muscles is required and trained. This finally keeps performance and coordination in good stead.

Excellent rolling characteristics of the outsole
Many running shoes feature massively treaded soles. For the purpose of weight reduction the midsoles are often only partially covered with tread islands. We consciously decided against a suchlike solution as this impairs the rolling behavior. Not only would the sole no longer roll continuously and evenly but also would the rolling motion be interrupted – similarly a hexagonal nut rolls even worse than a shim. In contrast our low treaded end-to-end outsole allows a smooth rolling motion and hence running efficiency is optimized.
It´s all in the mix - abrasion resistant and grippy
We are very proud of our outsole that, despite its low tread, provides a high level of grip. The material mix makes the difference - we use genuine rubber as material for the outsole. Rubber consists of vulcanized caoutchouc. This natural material is indeed expensive but due to the advantages compared to synthetics there is a lack of alternatives: High slip resistance and abrasion resistance at once. Because the outsole is processed end-to-end the bearing surface on the ground is at maximum and so is the slip resistance. At the same time the pressure is spread over a larger area, so that the abrasion is reduced compared to soles with small tread islands – the outsole lasts longer.