Better  quality:  Runnertune - handmade  in  Germany
Sturdy  heel  cap
Excellent heel guidance is of utmost importance for running shoes.  The heel caps of a Runnertune running shoe are made of very light but also stable, fiber-reinforced plastic. Ending in superior fitting, the transitions are smoothed manually and the caps are preformed over the lasts completely by hand.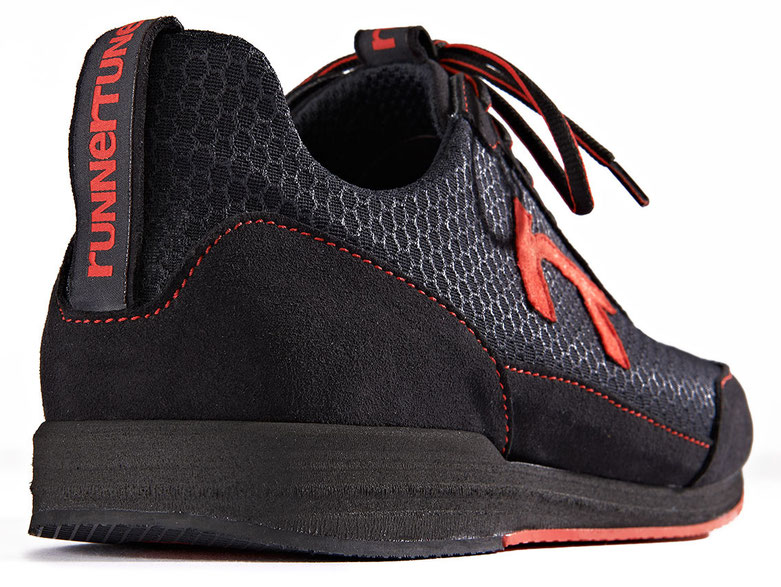 Why  at  all  caps  inside  a  running shoe  and  why  is  handmade  better?
Toe caps and counters
Footwear caps are stiffening materials that are incorporated into the shoe and hence award the shoe more stability. These stiffening materials are hidden between the upper and the lining. For Runnertune running shoes two different cap types are used: Toe caps, that are responsible for a permanent dimensional stability of the toe box, so that enough space is available for toes during the push-off phase. Thereby the risk of black toenails is reduced. Counters to stabilize the rearfoot during the landing phase. For a long-lasting dimensional stability at low weight we use a special, fiber-reinforced plastic for our counters.
Handcrafted and a specially formed
Runnertune running shoes contain no prefabricated cap components. Each and every counter´s edges are reduced by hand, so it is able to fit seamlessly between the upper and the lining. In the heel area it is kept open in a special way so the shoe can perfectly adapt to the runner´s heel rounding. Thereby it prevents possible heel friction points and thus blistering. Runnertune toe caps and counters are manually preformed precisely over the last and are checked for a perfect fit, so that they can take effect on the finished shoe exactly where they are supposed to. The high degree of handcraft is very time-consuming, however it leads to the best quality and it definitely pays off on the long distance.