Lightweight  and  efficient:  Runnertune  running  shoes
Power  to  weight  ratio  is  what  counts  in  the  long  run
In order to achieve maximum performance in running not only physical fitness is required but also excellent equipment. A high-performance running shoe is characterized by combining a low weight with all important properties required by the runner to play out performance in the best possible way. No essential components may be lacking – rather they must be weight-optimized by intelligent measures and the use of special materials. Runnertune running shoes are from the onset designed for an excellent power to weight ratio.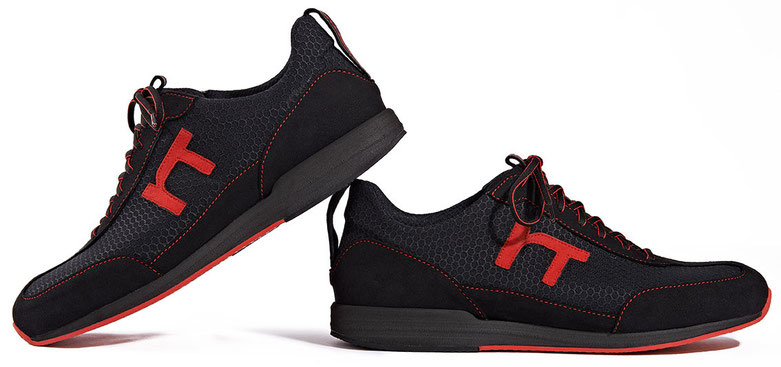 How  is  a  sound  power  to  weight  ratio  characterized?
Ultra-light weight is not everything
Of what avail is the lightest running shoe when major and supporting components are set aside due to weight reasons. Of what avail is a running shoe that at first sight is advantageous due to an absolute light-weight however in practice is not able to play this weight benefit. Many runners have confirmed that the negative effects such as lower stability by a lack of reinforcing materials or inadequate absorption undo the weight advantage and result in reduced performance.
No essential components may be missing
There is probably no equipment in the running area that influences the runner more directly than the shoe. A good running shoe should offer support and direction to a certain extent so that the athlete is efficiently brought to the best performance. In order to achieve this various shoe components are required such as a stable heel cap, a quality outsole or a supportive footbed. These components bring weight about however it needs the know-how of an expert to combine intelligent measures and special materials to optimize the weight and the properties.
High-tech materials bring light weight
In a Runnertune running shoe heel caps made of fiber-reinforced plastic are used. Due to the enormous stability we were able to reduce the material thickness and thereby save weight without compromising performance. The CNC milled midsole is made of a special EVA material that is also used in medical devices. Hence best resilience at low weight is guaranteed. Consequently this allows us to achieve a continuous, low profiled solid rubber outsole that inspires with low rolling resistance and high grip. These are just two examples out of many that show what makes us tick because for us the power to weight ratio is critical. The result is nothing to sneeze at: 285 grams per shoe (size 42)