Running  shoes made in Germany
Let´s better put it like: Made in Bavaria. Or even better: tradition obliges. What started in our region almost a century ago, being rationalized more and more in the recent decades and almost sank into oblivion, we now continue: Runnertune running shoes are "Handmade in Hilpoltstein by Shoe Manufactory Hackner". With a handful of specialists, running shoes are really made here in the world famous area for triathlon. But not just any - it should be the best of its kind. That´s the basis for our brand Runnertune. And the name means everything: a perfect sports equipment, a powerful tool that supports the athlete in his/hers performance.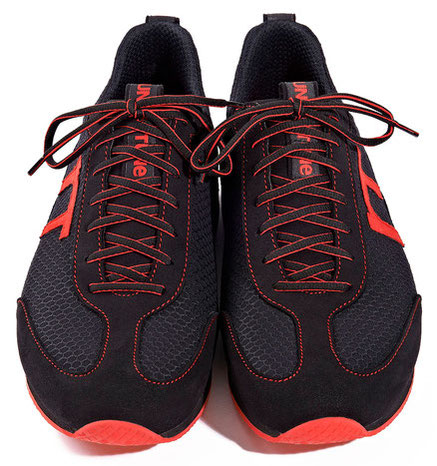 High performance
The years of experience in high-end custom shoe making have made us known, how real high-performance has to look like in the field of shoes. You could best compare our Runnertune running shoes with high-performance sports cars in the motorsport environment. It´s all about one magic phrase: power to weight ratio. That´s exactly what distinguishes our running shoes and what is not visible at first glance – it´s a lot of high-tech "under the hood" providing an extremely good performance at a very low weight. For Runnertune running shoes no essential components have been rationalized to squeeze the one or other gram short-weight whereby the performance tremendously would suffer. Rather we achieve weight reduction by consequently using light and high quality materials. In a nutshell, a Runnertune running shoe combines a large range of features and performance with very low weight.
Outstanding sustainability
Besides outstanding product features and excellent workmanship the aspect of sustainable production is very important to us. And this is not just a marketing slogan. Runnertune running shoes are entirely made by trained specialists in our factory in Hilpoltstein / Franconia. With the aspect to materials we pay attention not only to outstanding quality as well as skin friendliness due to the internationally recognized Oeko-Tex standard. Residues of rubber and EVA, arising at the production of our soles are recycled and get a second life as valuable raw materials. Also the "heart" of every Runnertune, the anatomically shaped Climatocork®iD footbed is made from the renewable resource cork. So regarding sustainability everyone says? Maybe - but we can do it.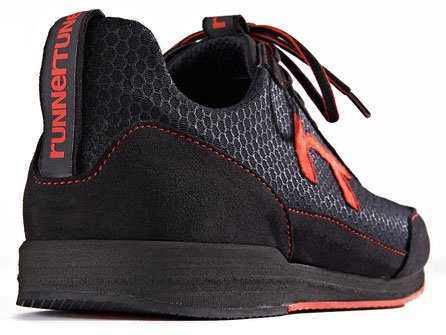 Form Follows Function
Why running shoes always have to look fancy? Why the upper of running shoes consists of so many single pieces? What´s the reason for printed elements? Does this make a shoe faster or better? These were the questions we asked ourselves. And we disagree about it. In our opinion a running shoe is designed to be a tool for fast, efficient locomotion - to make it brief, performance is what really counts. Therefore, in terms of design, the three F are so important to us: Form Follows Function. Design consisting of less parts and carrying a clear form language. The reason is quite simple: Less parts mean less seams. And less seams mean less transitions and hence less friction. Sometimes less is just more.
What you see is what you get
In the field of sports shoes, particularly in the running shoe area, unfortunately there is one credo that counts: "It's all about marketing." In contrast, our motto is - "What you see is what you get". We want to make a honest product. No painted soles. No incomprehensible theories. No website that is packed with meaningless animations. In brief, we don´t make a show. It says high-performance, because it is high-performance. It says Made in Germany – because it is Made in Germany. It's that simple. We produce running shoes with passion and no soulless plastic covers.